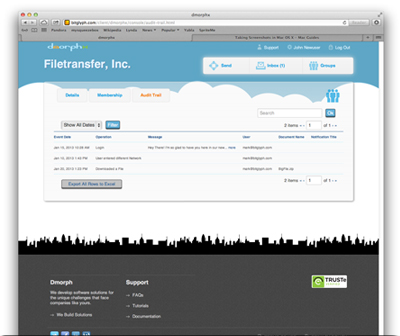 Our popular file sharing service has been redeveloped, with an improved User Interface, better support for mobile devices, and more.
---
What is DmorphX?
DmorphX is the Structured Data Exchange service in the cloud. It allows transferring of data (documents, pictures, files, etc.) to your employees and clients with increased security and full accountability.

---
Full Encryption
Full encryption during transfer and at rest. Your data is always completely locked down.
---
Virus Scanning
On the fly virus scanning. Because sending viruses isn't cool, even if they are sent securely.
---
Complete Audit Trail
Complete audit trail. Want to know who sent or read a document, and when? Easy with DmorphX.
---
Document Expiration
You can set expiration date for your sent document / message, ensuring the timely acceptance of time sensitive material.
---
User Groups
Create multiple groups within an organization. A group is a collection of users in your account.
---
User Roles
Role-based strict access control. Group owners can create additional users and view the audit trail.
---
Intuitive User Interface
With the look and feel of an on-line email application, users don't need to learn new software.
---
Large File Cabapility
100 Mb file transfer capability using only your browser. No software to download and install. Files much larger then 100 Mb ( Few hundred Gbs coming soon).
---
Business Branding
Complete customization of the Interface is available, for seamless integration with your business branding.